7′ 3″ of exhilarating performance is at your fingertips with the Model 220. Enormous full bass, clear lush tenor, and an exquisite singing treble characterize the meticulously sculpted sound. The actions are individually CAD optimized to each piano in order to provide precise control and finesse that is incomparable. An exquisite German handcrafted case completes the peerless work of art in every respect.
We invite you to personalize your Ravenscroft piano with our exclusive "one-on-one" design consultation at our facilities in Scottsdale, Arizona. Together we will create your unique dream performance instrument.
Base price USD 230,000.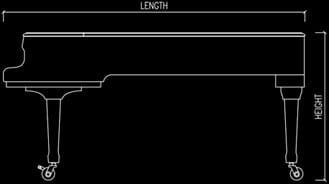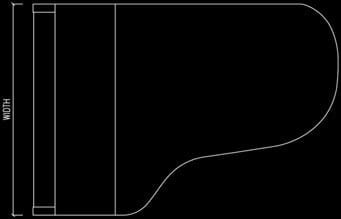 When you select a Ravenscroft Piano, you also receive a piece of our lives. We specialize in custom piano design and building. Our core focus is to work directly with you to conceive, design, and build the piano of your dreams. Gathering together the world's finest materials, we lovingly and meticulously create the personalized tone, action response, and visual aesthetics of your dream piano here at our studio in Scottsdale, Arizona.
Since a piano typically becomes the focal point of any room, it must be aesthetically pleasing and exist in harmony with its surroundings. This is ensured by balanced designs and a wide variety of finishes, materials, and exceptional craftsmanship in the assembly process.
We incorporate an exclusively unique design in our soundboards. The thickness of the beginning panel, the number and dimensions of the ribs, the radius of the crowning press, and the radius of the ribs all work together to produce a specific sound profile. Soundboard wood from the same forest chosen by Mr. A. Stradivari is also available for your Ravenscroft piano. Instruments created with this precious wood are identified by a certification number from E. Ciresa Srl Company of Italy.
Every Ravenscroft action is individually optimized for unsurpassed performance. Additionally, we have developed a method to control and smooth the inertia of the action, not just as a whole but from note to note. Though time-intensive, this meticulous attention to detail allows the pianist to focus on expression and tone instead of having to overcome inconsistencies of the action.
| | |
| --- | --- |
| #1 bass string length | 1,677 mm (66″) |
| Weight | 385 kg (849 lbs) |
| Length | 220 cm (7′ 3″) |
| Height | 104 cm (3′ 5″) |
| Width | 154 cm (5′ 1″) |
| Rim | 65mm thick, 37ply alternating beech mahogany cross-laminated construction |
| Bracing | 3ply solid beech beams with horizontally laminated beech belly rail |
| Action | Renner action, Weickert Felt Hammers |
| Keys/Keyframe | Kluge keys and keyframe |
| Keytop material | Naturals: Tharan from Kluge – Ivory and multiple options available Sharps: Solid ebony standard – multiple options available |
| Soundboard | Italian Fiemme Spruce or AAA select Sitka Spruce – other options available |
| Ribbing | Hand-selected eastern Canadian spruce |
| Pinblock | Bolduc 5ply quarter-sawn maple |
| Tuning pins | Diamond pins from Klinke of Germany |
| Bass Strings | Ravenscroft specific design |
| Plain wire | Mapes International Gold |
| Bridges | Ravenscroft specific design – vertically laminated body of ebony, hard rock maple , and mahogany with select hardwood cap |
| Bridge pins | Titanium |
| Hitch pins | Titanium |
| Duplex scaling | Multiple rear duplex scaling from note 49 to 88 |
| Lyre | Patented box/frame construction for maximum structural integrity |
| Trapwork | All steel construction for maximum performance and structural integrity |
| Keybed | 40mm thick, 3ply solid select white spruce with steel reinforcement bar |
| Music desk | Patented 4-position music desk |
| Lid prop | 3-position |
| Casters | German manufactured, solid brass, locking concert casters with hard rubber outer layer – numerous options available |
| Pedals | Sustain, full sostenuto, soft (unacorda) |
| Finish | German hand-finished polyester or numerous options available |
| Fallboard | Soft fall, hydraulic controlled closure system |